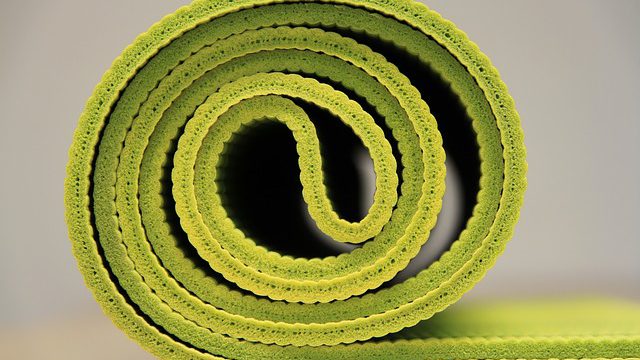 One of the most frequently asked questions by people looking to start practicing yoga is, "What is the best yoga mat for beginners?" Looking back when I purchased my own yoga mat, I really didn't know what I was looking for.  I looked for a mat that had some grip and wasn't too thin, oh and of course as a visual person it had to look nice.  There was no skill or knowledge that went into my selection and I have recently realised that I certainly needed a little more guidance when choosing my first yoga mat.  So I thank my readers for their interest in my posts, because in the quest of bringing you helpful information, I have now become more knowledgeable in the process.  So this article will be dedicated to teaching you how to buy a yoga mat that will serve you well as you embark on your yoga journey.
What Matters When Choosing A Yoga Mat?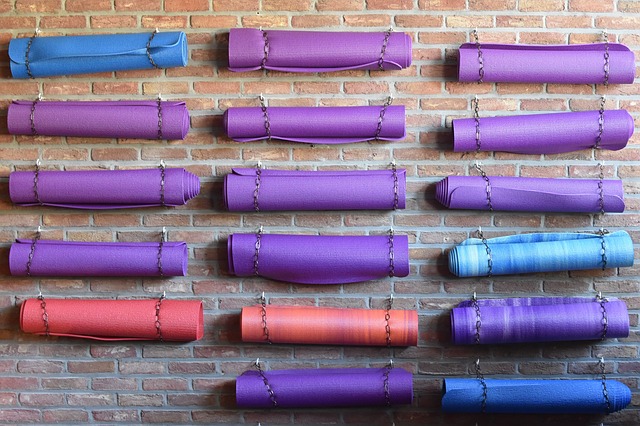 Believe it or not there are so many different brands and types of yoga mats on the market.  Not to forget the different materials and thicknesses available as well.  So that sparks the question, "What really matters when choosing a yoga mat?" The ideal yoga mat needs to keep you stable in your poses, offer support for your joints, create comfort during your sessions, be portable and easily stored.
There are really five considerations when you are looking at how to buy a yoga mat.
1.  Thickness
2.  Materials
3.  Texture
4.  Length
5.  Colour/Design
All of these five elements will come into play when you are looking at what is the best yoga mat for you.  Lets have a look at what each of these does to create a good yoga mat. But first lets  check out the video below for a quick overview.
Disclaimer: Please note that this video was created in 2013 and the prices mentioned in the video will not be a accurate representation of current prices.
Thickness
The thickness of your yoga mat will determine your comfort and stability during your session.  If the mat is too thin, there will not be enough support for your wrists and knees.  Too much thickness can affect your stability during the poses and you may not feel connected with the floor/ground.
As a rule of thumb, it is important to consider what surface you will be doing yoga on.  If you are working on carpet you can look at a thinner mat, whereas if you are on a hard floor surface a thicker mat may be better for your knees and wrists.
There are three general thicknesses of yoga mats that you can choose from.  These range from 1/16″ or 2mm to
1/4″ or 6mm yoga mats.  Each has it advantages and disadvantages so lets have a closer look at each.
1/16″ or 2mm Yoga Mats –  These are often called a travel yoga mat.  They are thin, lightweight and very portable as they fold-up to fit into a suitcase.  Because they are so thin they are not the best mat for people with achy knees or someone that needs more support during their sessions.

1/8″ or 3mm Yoga Mats – This is the standard sized yoga mat.  While not as thick as the 1/4″ mat is still does offer some support and durability.  It is light weight and will generally fit into any yoga mat carry bag on the market, making it a convenient option for your yoga practice.  The downside of this mat thickness does mean that it can wear out more quickly than the 1/4″, but these mats are generally not as expensive as their thicker cousin.
1/4″ or 6mm Yoga Mats – These are the most popular mat thickness found in the industry.  The majority of premium brand yoga mats are manufactured in the 1/4″ thickness because of their durability and cushioning they provide.  They tend to be a little heavier than their thinner cousins, but you will need to decide what is more important for you in a yoga mat, cost, weight, durability or comfort.
These are the three general thicknesses available in yoga mats, but it is quite common for people to inquire about a mat with more thickness.  There is one more thickness available and that is the 1/2″ or 12mm Yoga Mats.  The thickness of these mats make them great for Pilates.  They are not the most ideal thickness for yoga because they can cause instability in your poses because it is so squishy and also prevents a good amount of grounding with the floor that helps with pose stability.

Materials
There are a number of different materials that you will find yoga mats made from.
The most common is PVC/vinyl or rubber.  These materials provide good grip for the user.  It has a sticky nature that doesn't fail even during heavy sweating or if you engage in hot yoga.  PVC is the tried and true yoga mat that will give you many years of use. The support offered by each material will vary with material blends, but on the whole PVC offers the most 'give'. If you have allergies to latex, then it is recommended to avoid natural rubber mats.
There are now more earth-friendly options.  These include natural or recycled rubber, organic/natural cotton (not treated with synthetic finishes throughout the manufacturing process), and jute.  These can be more comfortable for your non vigorous styles of yoga and meditation.  Out of all the more earth-friendly materials, cotton and jute tend to offer less 'give' than the PVC variety.
Texture
Texture is usually provided on the mats to help with gripping during poses.  Like with anything, the preferred texture on a yoga mat is a personal choice.  As a general rule, PVC and rubber usually have no extra texture added and are better for people who like a smooth gliding experience.  They do tend to have that 'sticky' texture which assists with the grip.  You will find that the cotton and jute mats will have added texture to improve grip. If they don't then make sure you choose one that does so you have something to give you traction. If your mat has a tactile pattern then it is important to be aware it will need more regular cleaning because dirt and sweat will build up more quickly.
Length
When laying on your yoga mat you need to be comfortable and not leave the mat either in the length or width.  A good rule of thumb for choosing the perfect length is to make sure that your yoga mat is at least 6 inches ( approx. 15cm) taller than you.  If your a taller person, in the 6 foot range or above, have a look for an extra long mat.

Design/Colour
When we talk about colour and design of yoga mats, you can let your imagination run wild.  There are just so many options available out their to suit a range of tastes and styles.  So take your pick!  Have some fun with choosing patterns and designs that will compliment your yoga practice.
In Conclusion
In conclusion there is much food for thought when you look at how to buy a yoga mat.  Who would of thought there is so much to consider?  So what is the best yoga mat for beginners?  As we have discovered, it is a very personal choice. There are a number of factors that will determine which yoga mat is perfect for you. Things like what the mat is made of, the texture, length and thickness are the main factors that will ensure your comfort and safety when practicing yoga.  Even though there are many design an colour options available, it will come down to those basic factors that will determine your choice.  I hope that you have enjoyed this article and that it will make your choice much more strategic.  If you have any questions or comments about this article or even your own personal experience or recommendations, please be sure to leave them in the comments section below.  Thank you again and I hope to see you here on Over Fifties Affiliate again soon.
Christene
References:
https://www.yogaaccessories.com/comprehensive-yoga-mat-buying-guide.html
https://www.mindbodygreen.com/0-3799/4-Things-to-Look-For-When-Buying-a-Yoga-Mat.html
https://www.gaiam.com/blogs/discover/how-to-choose-the-right-yoga-mat