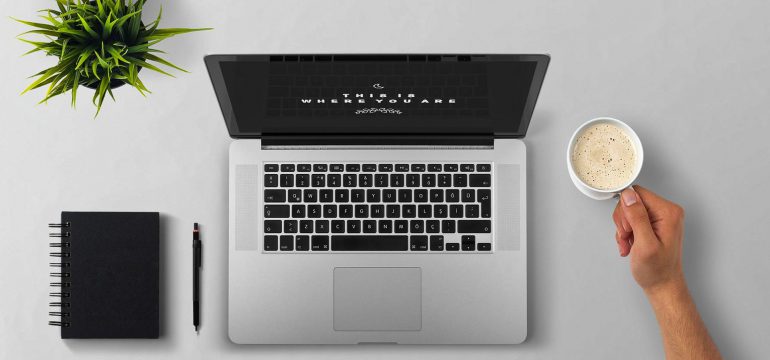 Wealthy Affiliate University scam or not?  This is a question that many ask before they make the decision to give Wealthy Affiliate a go.  Are you looking for a place where you can find all the information, guidance and support you need to have a fighting chance to make an online income?  Are you sick of putting your hand in your pocket time after time, only to find you get half of the information and then have to dig deep into your hard earned money for the next piece of the puzzle?  If you have answered 'yes' to either or both of these questions the Wealthy Affiliate website is definitely worth a look to see if it has to offer what you are looking for.
My goal in this review is to provide an honest account of what Wealthy Affiliate has to offer.  It may or may not be for you, but you won't know until you do your due diligence. I hope to give you some food for thought.  So without further ado, lets get rolling.
What is Affiliate Marketing?
Affiliate Marketing can be best described as a way for businesses to promote and sell their products online, by paying a comission to people who market and sell the products on their behalf.
What is Wealthy Affiliate?
Wealthy Affiliate is a membership platform and community that teaches and supports it's members in all things affiliate marketing.
It teaches affiliate marketers and online entrepreneurs how to:
Create successful businesses using the internet with training and support from industry experts.
Access to tools and services they need to be successful in the online space.
It's a place suitable for beginners and experienced affiliate marketers alike.
There are two membership levels to choose from – free and premium.
Wealthy Affiliate Membership Options
Both membership levels have specific features. Premium has additional features to the free membership, however, the free membership is a great way to get your feet wet and take Wealthy Affiliate for a spin before you commit to a paid membership.
The membership features can be seen below: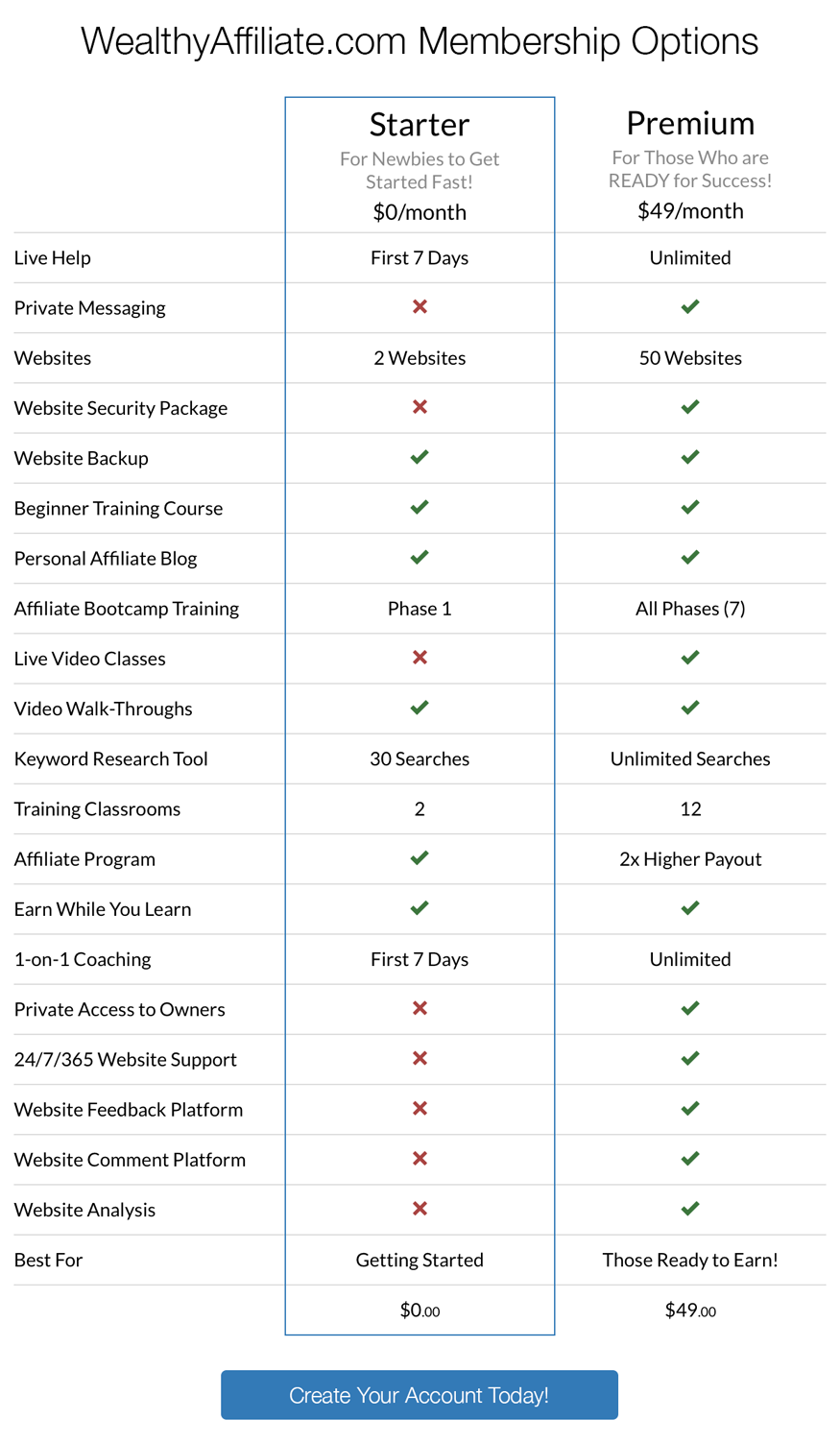 Thoughts On My Wealthy Affiliate Membership
I have been looking at ways to earn additional income for a number of years.  I was introduced to the Wealthy Affiliate Website by a good friend and fellow Wealthy Affiliate member.  We had been involved in another affiliate marketing platform, but found it very hard to get any support.  We are both very passionate about helping others and we just didn't feel right about recommending a platform that would not do the right thing by it's members.  Then came Wealthy Affiliate.
What Impressed Me
What impressed me initially was the ability to create a starter membership for free and try before I committed to a paid membership.  Another great feature was the community support that is there to help you on your journey.  As the saying goes two heads are better than one.  Wealthy Affiliate has a 800,000 strong membership so, 800,000 heads are better than one!  A path is much harder driven on your own.
Wealthy Affiliate – One Stop Shop
The Wealthy Affiliate Website is a one stop shop, and has all the training you need to be successful in affiliate marketing and entrepreneurship.  I am sick of paying for different courses  promoted by all these so called "gurus"  with their creative marketing strategies, only to find that you never get all the information and there is always another course or program that is vital to your success.  My Wealthy Affiliate membership area has everything I need to earn while I learn.  I have even found the training in the Member's area has helped me in an e-commerce business that my husband and I are partners in.  In fact if it wasn't for the training at Wealthy Affiliate, I would of been beside myself.  I have found this resource invaluable and I believe it is so versatile it can be applied to any online application.

What Others Think Of The Wealthy Affiliate Website Membership
To be honest, I have not found any constructive feedback from people that have been dissatisfied with Wealthy Affiliate.  Yes I have seen comments of people stating they think Wealthy Affiliate University is a scam and not all that it is cracked up to be.  In my opinion this is not constructive criticism.  They haven't specifically outlined why they have this point of view.  Most of the feed back I have seen from people who have started and stopped using the information on the Wealthy Affiliate website is because:
they don't currently have the time to gain the maximum benefit of what their membership has to offer, or
they are currently on a different path with their business and Wealthy Affiliate is not a fit for them at this time.
It is fair to say Wealthy Affiliate is not going to be a fit for everyone, and the timing may not be right for some people. I was reading on a comment somewhere that someone had shared and I thought it a very honest remark, "Wealthy Affiliate doesn't fail, people fail."  There is so much truth to this, Kyle and Carson, the owners and creators of Wealthy Affiliate make it very clear in the beginning that this is not the place for people who want a get rich quick scheme or for people who are not willing to put some hard work in.  There is no fluff or hidden agenda, if you want to learn and earn and are willing to take action then this is the place for you.
Wealthy Affiliate Member Testimonial
I have a testimonial to share with you from a fellow Wealthy Affiliate member. Rick has kindly allowed me to share his thoughts and experience with Wealthy Affiliate.
"I've now been at WA for almost 2 years and haven't regretted the time at all. I've learned a lot about online business (and that I still want to continue doing it), I've learned about creating websites, and I've learned a lot about myself – what my passions are and what I must dedicate myself to.
With that said, my desire to become a published writer has become a reality. I've just put my first Western novel up on Amazon and am working on my second one. I've got a website to promote my writing as well as offer writing tips and insights and am using what I've learned here to make it a value-added site, focusing on my readers. This is what I've been wanting to accomplish and WA is one of the tools I'm using to accomplish it."
Wealthy Affiliate – Pros and Cons
Pros
Option to start with a free membership to try before you commit to the premium membership.
Has certification training to help you earn as you learn.
Great for beginners – no prior experience or technical skills required.
Lessons are broken down into bite sized pieces.
Step by step lessons with check list to keep you on track.
Platform that keeps you up to date with changes in the online space.
Very economical way to have multiple websites hosted in the one place.
You have full control over your website.
Interact and communicate with the owners.
Community of support.
Work at your own pace.
No hype, no fluff.
Cons
Members area can seem a little overwhelming when you first login.
Is not a get rich quick scheme.
You will need to put the effort and hard work in.  No effort = no results.
If you are going to commit to a premium membership either monthly or yearly make sure you use it otherwise it is a waste of your money.
Be mindful, once you commit to a premium membership, you cannot revert back to a free membership.
Getting caught up in everything social in the community, can distract from what you needs to get done for you to move forward…so be focused and organised.
 So Is Wealthy Affiliate University A Scam Or Not?
No, Wealthy Affiliate is most definitively not a scam.  There is so much value to this platform and the pros do outweigh the cons.  Wealthy Affiliate's platform is a place to learn to earn in the online space.  The community will be there to help and egg you on when you need it most.  It is not a get rich quick scheme, you will have to put the work in.  There is no hype or fluff.  That is how we like it here at Wealthy Affiliate.
Conclusion + Special Bonus!
I certainly hope I have given you some food for thought in regards to the value of Wealthy Affiliate.  No good product review is complete without a SPECIAL BONUS!  The ball is now in your court as to whether you would like to explore the Wealthy Affiliate Website further.  If you think Wealthy Affiliate is a fit for you or you or your even a little curious, I encourage you to take a closer look. To do this, I would recommend opening your own free membership account and get first hand experience at what is on offer.  A Starter Membership will cost you $0!  That's how I started and I really valued the opportunity to get a sneak peak and first hand account in the My Wealthy Affiliate membership area.  There is so much value to this platform and community.  I am sure once you get your feet wet you will love the opportunities that will come your way.
GET STARTED NOW FOR $0 – CLICK HERE!!
How to claim your Special Bonus….
If you decide to get your FREE Starter Membership with us here at Wealthy Affiliate and upgrade to the PREMIUM Membership within 7 days, you will receive a 59% discount on your first month as a Premium Member PLUS I will have another special gift for you that I am keeping as a surprise for now…..exciting, exciting!!
Once you go Premium, I will send you a message on your profile that will contain your surprise bonus.
Thank you for taking the time to read this review.  If you have any questions I am here to help, comments or questions can be left below.