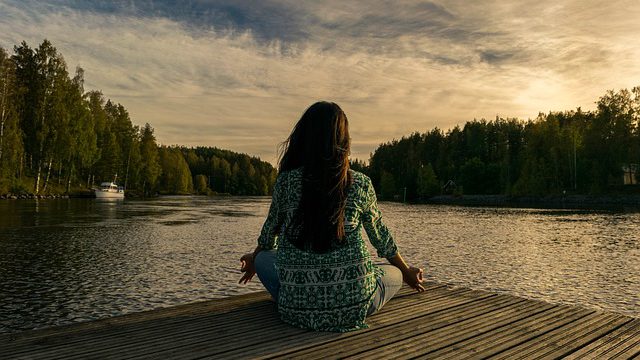 So you are Over 50 and you have learnt that yoga is great for any age, fitness level and ability.  Surprised you start to think, well why don't I try yoga!  Now what?  Where do I start?  Well I am glad you asked, because this article has been born from the questions from readers that are looking for more information on starting yoga at 50 and over.
Starting yoga at 50 and over does come with some important considerations to ensure that your experience is enjoyable, beneficial and injury free.  But first lets get the formalities out of the way.
Disclaimer:
This article was created for information purposes only and is not designed to be used as or replace medical advice.  Before commencing any new exercise regime, please consult with a qualified health professional.  Now that lets get back to to starting yoga at 50 and over.
General Facts About Ageing
Our bodies become less resilient as we age.  These things do vary from person to person, but we experience things like a decrease in muscle strength, elasticity of connective tissue and bone density.  All of these factors make us more vulnerable to injury and in addition, the injury can take longer to heal than it did a couple of decades ago.
As an older adult, it is more likely that we bring past injuries and conditions whether they be diagnosed or undiagnosed.  It is for this reason that when starting yoga at 50 and over safety must be of the upmost importance as to decrease the likelihood of injury.
Choosing The Right Type Of Yoga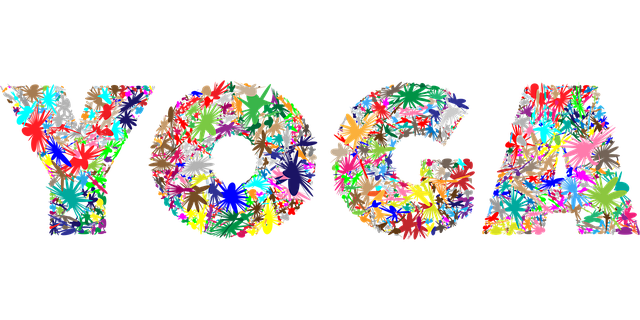 There are many different types of yoga from vinyasa, hatha to kundalini.  So how do I know which one is right for me?  Great question!  As someone starting yoga at 50 or over and working with pre-existing conditions or past injuries, it would best serve you to choose a style of yoga class that moves slowly and focuses on alignment, opposed to a class that is high-intensity where the student flows through the sequence quickly and that has alot of weight bearing on the wrists, arms and shoulders particularly if you have previous injuries to these areas.
Vinyasa
Is a style that includes many styles of yoga.  Vinyasa essentially means movement syncronized with breath.  It is a vigorous style, with rapid flow through the sun salutations which are a type of pose or asana.  If you hear of a yoga class called flow, this is most likely a vinyasa style class, meaning the rapid flow from one pose to the next.
Ashtanga Yoga
Is a yoga system that is based on a series of ashtanga, while being encouraged to breathe when moving to and from each pose.  Includes a set sequence of asanas (yoga poses), that are always performed in the same sequence.  There are a number of sequences that increase in difficulty as you move through.  Ashtanga is vigorous, fast-paced and physically challenging.
Power Yoga
Is used to describe a vigorous style of vinyasa yoga, however it was originally created from ashtanga yoga to make it more accessible to the western world.  It differs from ashtanga in that the poses are not sequenced as they are in ashtanga. It is a popular style of yoga, but each class differs do talk to your instructor so you know what that particular class entails.
Hatha Yoga
Like vinyasa, hatha yoga is a general category that encompasses most styles of yoga. Hatha yoga includes the practice of asanas (yoga poses) and pranayama (yoga breathing).  These help to bring peace of mind and assist in prepare the mind for meditation. It is an old style that is generally a more relaxed, slow and gentle style of yoga making it ideal for beginners or for people that like to hold the poses for longer.
Kundalini Yoga
Focuses on seated poses, repeated movements, breathing techniques, chanting, meditation and mantras.  It is designed to draw the energy from the lower base of the spine up through the seven chakras. It is quite a different style of yoga to all the others as it focuses on moving the energy up the body.
Bikram Yoga
A style of yoga that is consistently the same no matter who the instructor is.  It consists of ninety minutes of yoga with twenty-six postures and two breathing techniques. The room is heated to 105°F (40.6°C), and humidity of 40%.  Sweating is not optional.  I have tried this style of yoga as a newbie and I do not recommend as a beginner.  It is quite intense and the heat just adds to that intensity.  Because you are hot, it is always a risk that you will push your body harder than it is ready for, increasing the chances of injury.
These are just a few styles of yoga that are available.  Others include, jivamukti, iyengar, anusara, sivananda, viniyoga, yin yoga, integrative yoga therapy and restorative yoga.
Choosing Your Teacher/Instructor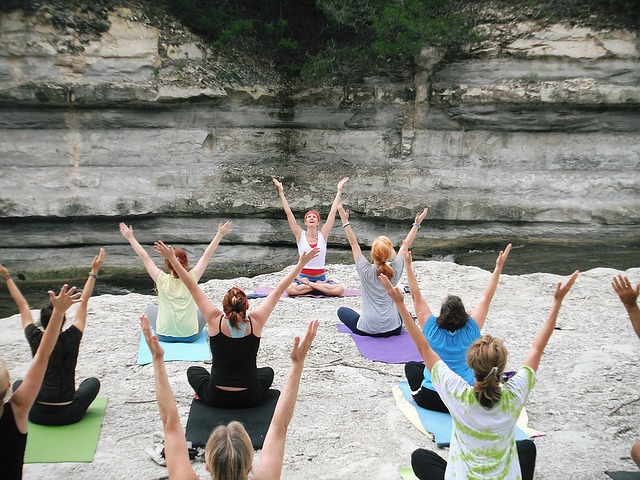 Style of yoga is not the only consideration needed when choosing the right type of yoga to start with.  Choosing a teacher that you resonate with is just as important.  Each yoga class will differ depending on the teacher.  In saying that you might find a teacher of a high-intensity style of yoga that actually moves slowly and another teacher of say a hatha class where the teacher moves quickly through the sequences like a more high-intensity style.  You really need to shop around to find the right instructor for you.  Make sure you talk to the teacher or the people who run the studio to get information on how the teacher runs their class.
Ensure the teacher you choose has an interest is helping you get the benefits out of the session, places emphasis on creating an awareness rather than achieving the pose.  It is important that the teacher is happy to give you alternative pose options that suit where your body is at currently.  If they have the attitude that every pose is, "uniformly attainable and beneficial for all bodies," (https://yogainternational.com), I would steer clear as this is not going to be beneficial for an older beginner and may result in injury or feeling like a failure.  Starting yoga at 50 or over is more important about moving safely and with awareness that achieving every pose, which is not practical as every body is different.  That is not to say after practicing yoga for a period of time that these poses will not be achievable, but be gentle and kind to yourself, listen to your body and enjoy.
What you need to get started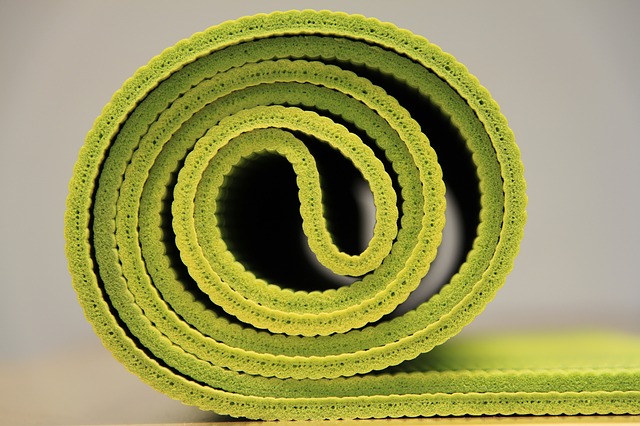 Comfortable clothing – something breathable and allows ease of movement.  It doesn't have to be fancy, but if you would like to purchase some yoga specific clothing please click here.(Links coming soon)
Yoga mat.  Some teachers may have mats that you can borrow when starting out.  You will need to check with the facility or instructor, but you can never go past having your own mat.  For a selection of yoga mat options please click here.(Links coming soon)
Yoga blocks and strap.  These may not be necessary when your starting out.  Check with your teacher if they have some that you can borrow if they are used in the class or click here for some purchase options. (Links coming soon).
Yoga resources.  If you want to do yoga from the comfort of your own home then you will need to source some classes either on DVD or online that you can work with.  I am currently looking at some resources, but not able to recommend them at the moment.
I can however recommend a website called Do Yoga With Me – https://www.doyogawithme.com
They have a number of free classes that you can access online and if you like what you see there are a paid subscription offer.  I haven't looked into the subscription offer as yet.
Alternatively you can check out YouTube for yoga classes that you can enjoy in the privacy of your own home.
When starting yoga it is important for you to move slowly and give yourself permission to skip exercises or adjust poses as you feel necessary.  Even if you have spoken to the instructor about your specific needs, you still need to make sure you take responsibility for your own well-being.  If they have a large class, they may have to work with the majority, so listen to your body and don't feel pressured to do what everyone else in the class are if it doesn't feel beneficial.
Home vs Live Class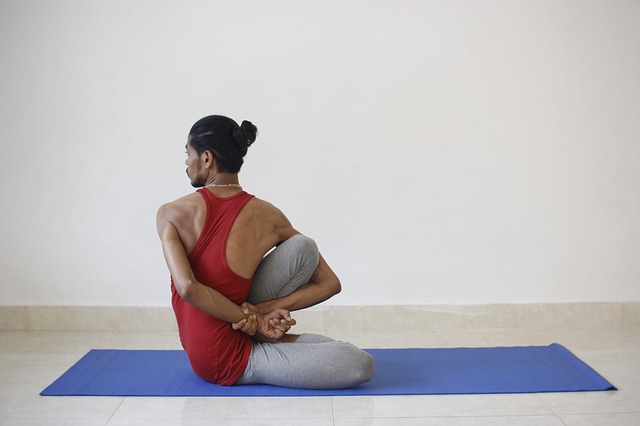 Starting yoga at home is a convenient option if you prefer this option to attending classes.  This gives you the flexibility to practice when it is convenient for you.  There are many great resources that provide online classes to help when your starting yoga at home.  I can recommend Do Yoga With Me.  Website:  https://www.doyogawithme.com They have a number of free classes that you can access online and if you like what you see there are a paid subscription offer.  I haven't looked into the subscription offer as yet.  It is also full of great information about yoga.
Another great website I have come across is Yoga International – https://yogainternational.com.  They have a number of classes online, but it seems you can have a 14 day free trial after which a subscription applies.
In contrast you can get some great online videos through You Tube as well.  I have found myself searching up a video when I haven't been able to get to my regular class.
Don't be afraid to attend a class from time to time.  A beginning yoga class is beneficial because in a live class can the teacher has the opportunity to assist with correcting poses and body alignment.  You also have the opportunity to learn alternative poses for where your body is at.  A live beginning yoga class offers social contact and support from fellow class members. So give it a go.
Hope this article has been informative and helped you in starting yoga at 50 and over.  The most important thing is to make sure you find the right type of class and teacher for you and your needs.  Safety and injury prevention is the most important consideration when starting your practice.  Remember to listen to your body and take responsibility for your wellness with your yoga journey.  Finally remember to enjoy!
Thank you
Christene
References:
https://www.doyogawithme.com
https://yogainternational.com