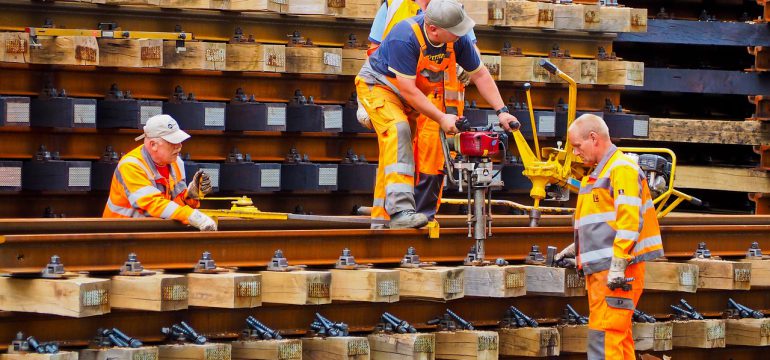 Do men over 50 face the same challenges as their female counterparts when looking for a career change or to get back into the workforce?  This article will outline some of the challenges men over 50 can face when looking to either change careers or re-enter the workforce, we will also explore the best jobs for men over 50.
There are many reasons why jobs for men over 50 can be more difficult to come by than their younger counterparts.  Men over the age of 50 face many of the same challenges as women in the same age bracket.  As discussed in my article BEST JOBS FOR WOMEN OVER 50, ageism is very real in the current jobs climate for both men and women.
Why Is Ageism Such A Problem?
Ageism in short is age discrimination.  It is against the law, but the main concern is that it is very hard to prove unless the recruiting party is careless.  Many older workers have reported feeling that they have not secured employment due to their age.  Unfortunately, there is very little that can be done in this situation, unless the employer has outwardly expressed this as a reason for not hiring the individual.  There maybe some good news though – adage.com.au reports that 45-54 year old age bracket are the fastest growing labour force in Australia.  With an expected skilled labour shortage of approximately 200,000 workers that was expected to peak in 2016, it is said that employers will no longer be able to ignore mature aged job seekers.  From the research available, the information suggests ageism is a problem in the over 50's due to perceptions among employers.  It is these perceptions that create a barrier and the applicant is not given a fair opportunity to run for the position.
Common Themes Of Age Discrimination
Research from Melbourne University, has shown, there are three common themes under ageism that explains why men over 50's are unemployed for longer and find it more challenging when changing careers. These three themes have been unearthed from interviewing job seekers in relation to their experiences looking for work over 50.  Percieved technological challenges, physical limitations and physical appearance are the three themes that have emerged through this interview process. Each of these themes all fall under age discrimination and we will go more into each one below.
I think it is important to note, that each person has the right to be judged on their own merrit.  The trend the research is showing is discrimination based on perceptions, not facts, but perceptions related to age.  With the age of retirement rising, how is this trend going to play out if the consensus is there is ageism occurring?
Technological Challenges
The perception that older people are not as technologically savvy and able to keep up with the speed of changes is one of the situations where applicants over 50 feel they are not considered for job opportunities.
Physical Limitations
It is a common perception that the over 50's are not as physically fit or as capable than younger employees.  It is also believed that the over 50's are more prone to injury.  This makes me chuckle, as some of the fittest and most energetic people I know are over 50.  In my experience, the majority of health conscious people I know are over the age of 35.  With age comes maturity, and instead of trashing themselves every weekend, the over 50's are actually taking more care of themselves physically, emotionally and spiritually.
Young and Youthful
This shouldn't really surprise anyone.  With a society that is so obsessed with youth and anti-aging, is it any wonder it has rubbed off into the employment sector.  Job seekers have reported that they felt that they were over looked for jobs because they are not as "young and attractive".  It has been reported that grey hairs seem to go against the applicant and they become "invisible" in the recruitment process.
So What Can Be Done To Increase Your Chances Of Success?
Apart from changing perceptions of the mature-aged worker, here are some practical tips to assist you in getting the position you are vying for.
Network, network, network.  You never know who you might meet, opportunities are often created this way.
Align yourself with job search organisations that specialise in helping the over 50's find meaning employment.  In Australia adage.com.au and olderworkers.com.au are two of the main agencies.  If you are outside of Australia, google is your friend to find a similar organisation near your location.
Look for organisations and careers that value mature aged workers.  There are great articles on google that will help you do this.
If your changing careers, get involved in some work experience related to your new career.  This will help you gain some valuable and recent experience.  It is also a great way to network, shows commitment, dedication and get your foot in the door with potential employers.
Work experience is als a great way to keep your skills current, if you are looking for work.  Being idle can be detrimental to your efforts.
Make sure you have an online presence.  If you don't have a Facebook page or are on LinkedIn, believe it or not this can go against you.  Living in the information age means people expect to google you and get some background information.
Start your own business.  Over 50's have so much experience and knowledge that can put you on the front foot when starting a business.  Wouldn't it be good to finally get that call for a job interview and you can say, thanks but no thanks, I am now self-employed!!
So What About Starting Your Own Business?
Did you know that Warren Buffett made 99% of his fortune after the age of 50?  So if your over 50 and finding it an uphill battle on the job front, this should make you feel hopeful. When you are continuously being overlooked or unsucessful in your apllications it can be very disheartening….I can vouch for that personally.  So why not give all those employers the "bird" and start your own business?  You have so much knowledge and experience to offer, who needs those that don't give you a fair go!  The internet has opened up many work from home and online opportunities to start your own profitable business, the world really is at your feet.  Yes it can be a little scary, but there is also alot of great resources available online to do your research, here at Over Fifties Affiliate we are here to help too!
lack of technical savvy in relation to the online world.  If the internet frightens you and you, don't let this lack of skill set deter you.  There are many opportunities to learn new skills relevent to what you need and there are  so many business models available that do not require technical skills to start with.
Please Consider This Important Information!
Please remember due diligence is key.  Do not rush into any opportunity without doing your research.  There are many great opportunities online, but there are also many opportunities to be scammed out there, so please, please DO YOUR HOMEWORK!!  My rule of thumb is, if something seems to good to be true, then the chances are it more than likely is!
In Conclusion
Thank you for taking the time to read this article.  I hope you have found it helpful.  I have certainly learnt a few things myself.  But if you only take one thing away from this article, let it be – don't give up!  Jobs for men over 50 years old can seem elusive.  You have options.  I am, believe it or not, in your shoes at the moment. Looking for work, re-skilling, volunteering and I am building my own business!  I don't want to be at the same place I am today in the future…my goal is to build this website helping others and when that employer says…you got the job I can say thanks, but NO THANKS!!  That day will feel so good and I am looking forward to it!  If you would like to find out more about the platform I am using to build my business please click here.  If you have any questions please feel free to place them in the comments below.
To your success!